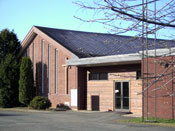 Christ Lutheran Church is located in Thunder Bay Ontario, which overlooks beautiful Lake Superior and the mysterious Sleeping Giant.
"Living and Sharing the Good News of Christ" is our mission.
We aim to accomplish that by welcoming our guests with open arms and seeking to share the love of Christ in all our relationships. We strive to be a place where you can feel comfortable, safe and accepted as a person truly loved by God. Our Lord extended his welcome to all:
"Come to me, all you who are weary and burdened, I will give you rest" (Matthew 11:28).
Our congregation invites you to participate in our activities so you can grow in your faith and service to the Lord.
Some of our activities include:

Dynamic worship,
Bible Study,
Music Teams,
Sunday School,
Confirmation instruction,
Ladies group (Dorcas),
Youth Activities,
visits to the hospitalized and shut-ins.
Through our gifts we support local projects and missions, those in other parts of Canada and also in various areas of the world. We also make our facilities available for non-profit groups such as AA and Alanon.
Christ Lutheran is a member of Lutheran Church-Canada which is a grouping of some 300 congregations scattered across most of our provinces. Lutheran Church Canada has historical links to our sister church in the United States, The Lutheran Church-Missouri Synod.
We hope you will come and visit us and experience our Christian hospitality in worship and numerous other events.