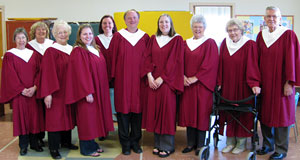 The Crusaders is our traditional choir that is singing currently in two and three voice parts, usually accompanied by piano or organ. We meet to rehearse Tuesdays from 5:30 – 7:30 p.m. and typically lead worship the first and third Sundays of the month. This includes assisting with the hymns and the liturgy, as well as singing an anthem. The Crusaders made up the majority of the Church's Christmas and Easter choir (2016), and have also been busy throughout the year accepting the challenge of learning new music, as well as learning more men's harmonies. The members of this ensemble are eager and committed. Our church owns several anthems that have not been performed. Typically, four are learned a year by the Crusaders for special services such as Christmas. Although we do work hard, we laugh a lot and enjoy sharing in a short devotion and fantastic fellowship every week. There is room for more singers in this ensemble. Anyone who is interested is encouraged to contact Craig. "We would love to have you join us!"
_________________________________________________________________________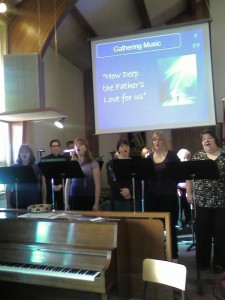 Bread of Life is our adult contemporary ensemble that features electric and acoustic guitars, as well as a mandolin. This group continues to learn new material and visit traditional favorites. We meet to rehearse Wednesdays at 7:00 p.m. and usually lead worship the second and fourth Sundays of the month. Lately, we have begun singing in three and four parts as we strive to praise Him even better by using all of our God-given talents. When we are not roaring with laughter we do manage to spend some moments rehearsing, some time sharing in God's Word and some time in prayer. Men and women are encouraged to consider sharing their gifts with this group! Please contact Craig if you are interested.
_________________________________________________________________________


Lost & Found is our Youth Praise Band which involves young people age 12 and up glorifying God by singing and playing instruments, putting a new twist on a familiar tune. Flute, guitar, piano and percussion including hand drum, tambourine, maracas, rainstick are some of the instruments you'll hear played by this newest ensemble formed at Christ Lutheran. We usually lead worship the fifth Sunday of certain months or at special occasions. During our rehearsals Tuesdays @ 7:30 p.m. we practice, we have "story-time" and we LOL a whole lot!
_________________________________________________________________________